Articles

A "LEAN" BUDGET – NOT A DIRTY WORD!
Written by Gad Oron
In the present state of affairs when we must work under tighter budgets and cancel events, we must remember not to give up. In spite of things it's important to produce corporate events. We must take responsibility for the given situation and stop the deterioration.
How is it to be done? read more...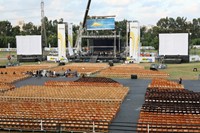 IS THE EVENT PRODUCTION INDUSTRY COLLAPSING?
written by Gad Oron
It is often claimed that an event is an expendable luxury that must be postponed or cancelled in times of crisis. Well, I don't think so. An event is an effective tool for a business as a product, for institutions as an image reinforcer, for human resources departments as employee welfare and motivation. It creates an encounter of the consumer public with the product, the idea, the brand. read more...